Mattias Folkesson, Leadstar Media's Head of Sweden, talks about online gaming markets in Sweden, recent legal developments and the fundamental role his company plays in serving many different players and companies.
In recent years, the online sector of the gaming market in Sweden has been at the forefront of the growing gaming industry. The online gaming market offers interesting business opportunities for operators who are looking to find ways to reach new players effectively.
Until recently, Sweden did not have any national regulations on online gambling. As a result, it saw a huge increase in the number of online gaming products – creating confusion among players.
Today, this situation has partially disappeared, thanks to new gaming laws that were recently introduced by the Swedish government, but there are, nevertheless, a myriad of online casinos (over 100 websites) that do not always manage to deliver products that satisfy their players.
Choosing the most suitable online operator is a big task and not easy for the average player.
However, iGaming affiliate company Leadstar Mediaaims to change this by providing guidelines for sports and gaming enthusiasts through their online betting and casino comparison websites. Mattias Folkesson, leads a team of iGaming experts in his role as Head of Sweden at Leadstar Media, so we interviewed him to find out more.
Here is our interview:
1 – Mattias Folkesson, your role in Stockholm, is at the heart of Leadstar Media's business development and SEO initiatives throughout Sweden. What do you do and what are your responsibilities?
As Head of Sweden I'm responsible for all our activities in Sweden. We have five Swedish products and I oversee the development of everything from our content to SEO, design, social media strategy and partnerships. On top of that, we have one of Sweden's biggest betting communities, Bettingstugan.se, which requires a lot of work like writing daily betting tips and news. I'm personally involved in everything, but I also spend much of my time coordinating activities and delegating work to others in my team.
---
2 – You have been with Leadstar Media for almost four years and have overseen the birth and growth of interesting media products such as Bettingkollen.se, Sportbloggare.com, Oddsbonusar.se and the Bettingstugan.se betting community. Briefly, what are these websites and what do they do?
Leadstar Media is founded by Swedes and therefore Sweden is the market where we have been active since the beginning. At the moment, we have more sites in Sweden than in any other market. All sites have the goal of sending players to our partners, however, the approach differs a bit between them.
Bettingstugan.se is one of Sweden's biggest betting communities and our most recognized brand. Bettingstugan provides free betting tips for various leagues and sports as well as for popular Swedish pool games like Stryktipset and Europatipset, all from experts with positive ROI.
Oddsbonusar.se and Bettingkollen.se are quite similar in the sense that they are both SEO driven sites, 95+% of all the traffic to these sites is from organic Google searches. Oddsbonusar.se targets players that have some experience and, as the name suggests, are looking for a bonus. Bettingkollen is more geared towards beginners, for example with information about the licensing system, which new players might not be aware of.
Sportbloggare.com is a media site that collects the best sports blogs in one place and rightfully so is one of Sweden's biggest sports blogs itself. We have sports journalists and passionate bloggers that write about the latest news from lower leagues all the way up to top tier leagues in several sports. It's more focused on sports than it is on betting but it still has its dedicated betting sections.
---
3 – Casinodealen.se is another one of the flagship products of your company. What are we talking about and what is its mission?
Casinodealen.se the only pure casino site we have in Sweden, and one of a few in the company portfolio. There are many online casinos out there and we try to make finding the right one as seamless as possible by eliminating friction. We outline pros and cons and provide a summary of each casino directly in our ranking lists so you don't have to read a full review of potentially hundreds of casinos – unless you want to. Of course, we also only work with licensed operators and we have our experienced gamblers scrutinize each of them.
---
4 – Since the beginning, Casinodealen made an important commitment to its users: that it would be honest and fair in the evaluation of the online operators. What does your analysis of an online casino consist of and what are the things that Casinodealen.se analyzes?
We take a lot of things into account in an effort to give a really good overview. There are what we call "hard facts" like payment methods, games, security, odds/games provider and support options. These things are what they are, good or bad. We also give our expert opinion on the operator in terms of "soft facts". Things such as user-friendliness, mobile experience, deposit and withdrawal times, and customer support. While both the hard and soft facts can be deal-breakers, the soft facts are based on opinions so just because we don't like a site's navigation, that doesn't make it a bad choice. We are all different and value different aspects of online casinos, although we still try to be as unbiased as possible.
---
5 – The online casino market in Sweden has recently faced major government regulations. What has changed for iGaming companies and Casinodealen.se?
In the wake of the Covid-19 pandemic, the government decided to introduce further restrictions on online casinos. Amongst other things, new customer bonuses were restricted to a maximum 100 SEK and a weekly deposit limit of 5000 SEK was introduced. The deposit limit somewhat impacted the value of players, but the biggest change we've seen is that the bonus offer doesn't make the difference anymore. For Casinodealen it has been positive, as I discussed in the previous questions, we highlight other factors other than just the bonus, and these things carry more weight now. Now that the bonuses are all the same, the best companies rise to the top.
---
6 – There are new laws in Sweden regarding legal online gaming. How is it possible to recognize a legal gambling site from an illegal one?
The Swedish Gambling Authority (Spelinspektionen) has a list of all the licensed companies (here) including which brands it applies to. In addition, all brands that are licensed should showcase this fact on their site. However, for first-time players, it's not always easy to find this information unless you know where to look. In fact, according to a survey carried out by Spelinspektionen in December 2019, 95% of respondents said they did not know how to see if a site was licensed. While we only work with licensed and secure operators, not all affiliates do. It's obvious that something needs to be done and we as affiliates have a responsibility to inform players about this as well.
---
7 – Casinodealen.se and the future. What is planned and what are the future goals?
Updating the content, adding new pages and making sure we stay relevant are things that we do on a day to day basis. We are constantly working on improving the site in terms of SEO, and that is the focus going forward as well. Long term, the goal is to become the top casino affiliate in Sweden. Competition is tough, and SEO takes time, but we have a way of working that has made our products successful in the past and we are confident that Casinodealen will follow the same path.
---
ABOUT CASINODEALEN.SE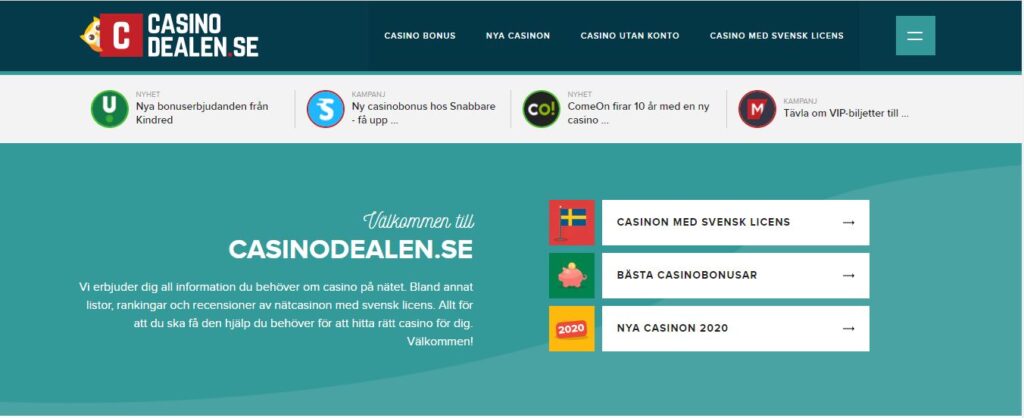 Casinodealen.se was launched in 2015, but initially, it wasn't a site that made "much noise".
In 2006, before Leadstar Media was even a company, its founders launched a poker site as a side project. The site was not a great success, but it planted a seed that began to grow. In 2008, another website was launched which had some success – laying the foundation for the current company.
Folkesson's team has many years of experience with online casinos and at Casinodealen.se they list, rank and compare the best licensed online casinos in Sweden to help potential players find the right operator.
Today, Casinodealen.se is one of Sweden's most respected sites for comparing online casinos. Every day the site helps players find the best and most trusted online casinos to play with.
The product's success is based on the principles of honesty and fairness when evaluating companies.
Official Website: Casinodealen.se
---
ABOUT LEADSTAR MEDIA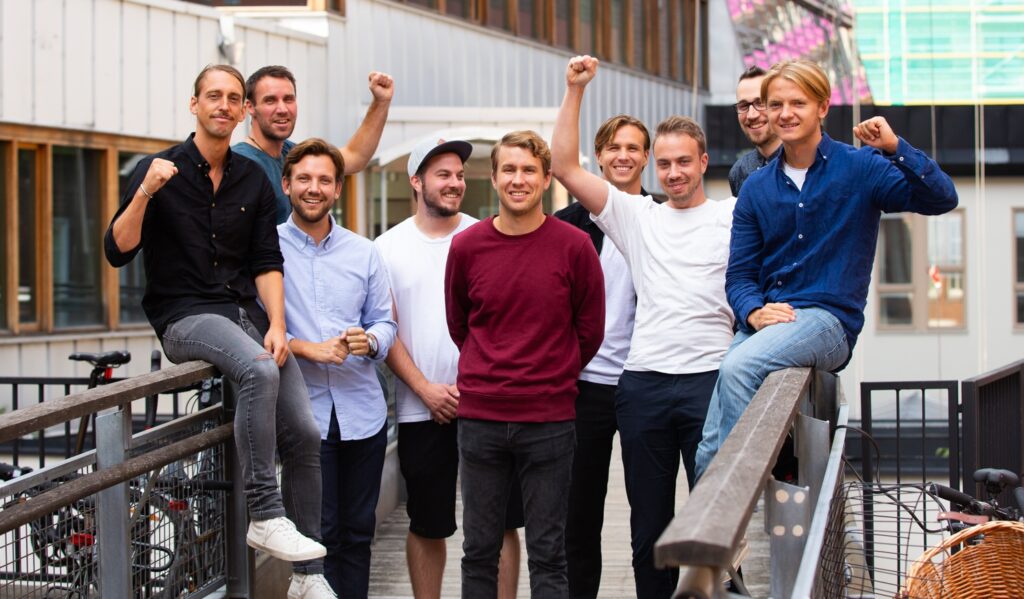 Leadstar Media is an online lead generation company for the iGaming market. They focus on sending high quality leads to iGaming operators.
It is a company that believes in smart choices and they have created some of the best product comparison sites dedicated to iGaming, and in particular, sports betting.
Leadstar Media loves online entrepreneurship and their motivation is to create better and better products and services every day.
The company also operates several websites and multimedia communities within the sports and sports betting sectors in collaboration with some of the industry's most passionate players.
Official website: leadstarmedia.com