This collaboration is Yamaha 125 Generation's support for EVOS Esports to become a positive platform for the younger generation to catapult the esports industry further.
EVOS Esports, the leading esports organization in Southeast Asia, has garnered the support of Yamaha's 'Generation 125' as an official sponsor.
This new collaboration by Generation 125 supports the younger generation to continue developing the esports industry further in Indonesia.
Generation 125 is the nickname for Yamaha 125cc's matic motorbike users consisting of:
FreeGo, Fino, X-Ride, Mio series, and the latest product named GEAR 125 adapts the character of the current generation with the design,
technology, and features that are 'Definitely Cool', 'Definitely Uphill', 'Definitely Strong', 'Definitely Economical' and 'Definitely Reliable' which will make users 'Win More' because they gain more value in the same price range as a 110cc matic motorbike.
This is what keeps Generation 125 ahead because they are the younger
generation who are passionate, dare to bring positive changes, never give up, geared to win in everything including esports tournaments.
Takeyama Hiroshi, Deputy Director of Marketing of PT. Yamaha Indonesia Motor Manufacturing (PT YIMM) said,
"The high enthusiasm of the younger generation in the esports industry is the motivating factor for Generation 125 in collaborating with EVOS Esports; in supporting the achievements of Indonesia's younger generation.
Yamaha's 'Generation 125' product has now become the choice of the younger generation as a companion in their daily routine, thus this collaboration is expected to further increase the enthusiasm and optimism of Indonesia's
younger generation to continue to advance and move forward.
With EVOS Esports, let's: Let's GEAR UP, GAME UP, and Win More! "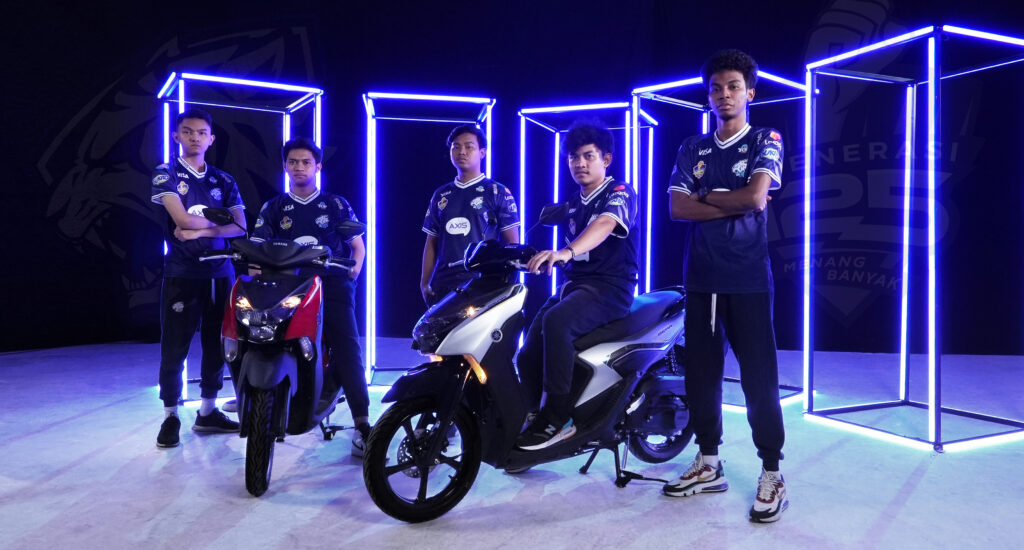 Generation 125 as the official sponsor for EVOS Esports, marks a breath of fresh air for the esports industry, which is getting a lot of support from various industries in developing the esports ecosystem in Indonesia.
Hartman Harris, Co-Founder and Chief Business Officer of EVOS Esports added, "We are excited to partner with Yamaha as they enter the esports industry for the first time in Southeast Asia.
Through the "125 Generation Wins Many" campaign, EVOS Esports and Yamaha hope to reflect the spirit of the younger generation to be advanced and fast, especially in the esports and transportation industry."
Generation 125 will now work together with EVOS Esports to support the ability and enthusiasm of today's younger generation who are brave, active, smart and rational in making choices because they are always thinking ahead.
Watch launch video on EVOS TV YouTube: https://youtu.be/mv6XecyMEp0
---
About EVOS Esports
EVOS Esports is the leading esports organization in Southeast Asia; winning world championship titles;
Mobile Legends: Bang Bang World Championship (M1) 2019 and Free Fire World Cup 2019.
EVOS Esports has raised a total of US$16.4M in Series A and B investment rounds to-date from Insignia Ventures Partners, Korea Investment Partners, Mirae Asset Ventures, Woowa Brothers, Indogen Capital, several family offices across Southeast Asia and Japan, a group of angel investors from Indonesian conglomerates; and the top-level management of a leading eCommerce player in China.
EVOS Esports currently manages 160 gaming influencers exclusively and are partners with over 200 esports talents, with a total following of over 64 million YouTube subscribers and over 62 million Instagram followers, and over 350 million views per month across Southeast Asia.
EVOS Esports was founded in 2017, housing competitive esports teams across six game titles. The 100- over employee company operates in four countries and three teams from EVOS represented Singapore and Indonesia in the SEA Games 2019.
Additionally, EVOS Esports provides talents with streaming contracts, brand endorsement deals, content programming, creator collaborations, digital rights management, monetization, offline event opportunities, manage their social media channels and content creation.
EVOS Esports has worked with more than 40 brands to date such as Yamaha, Visa, Axe (men's grooming),
Lazada (ecommerce arm of Alibaba Group), Axis (telecommunications), Pop Mie (instant noodles), Sukro, Top Coffee and J&T Express (logistics).
EVOS Esports website: https://www.evosesports.com
Follow EVOS Esports on:
YouTube: https://www.youtube.com/evosesports
Instagram: https://www.instagram.com/evosesports
TikTok: https://www.tiktok.com/@evosesports
Facebook: https://www.facebook.com/teamEVOS