Newzoo, in his research published in recent days, has studied and classified the top 25 public companies for game turnover in 2018
The top 25 public companies for gaming revenue generated $ 107.3 billion in 2018, the highest ever – it is as evidenced by recent research carried out and published by Newzoo
Tencent, Sony, Microsoft, Apple and Activision Blizzard are at the top of the list for game revenue. These brands, led by Tencent, generated a combined total of $ 107.3 billion, an increase of 16% compared to 2017 and the first time the top 25, exceeded the limit of $ 100B.
It is estimated that console games account for 38% of revenue per game revenue and represent nearly 80% of the entire global $ 134.9 billion gaming market.
Despite the new Chinese game rules launched in 2018, Tencent accounted for about 15% of the market, grossed $ 19.7 billion in revenue, and was the world's most important public company by sixth consecutive year revenue, according to Newzoo calculations.
The console-led growth for the top 10 companies on Newzoo's list, and should not be surprising that the revenue increase came from the three main owners of the platform: Sony, Nintendo and Microsoft.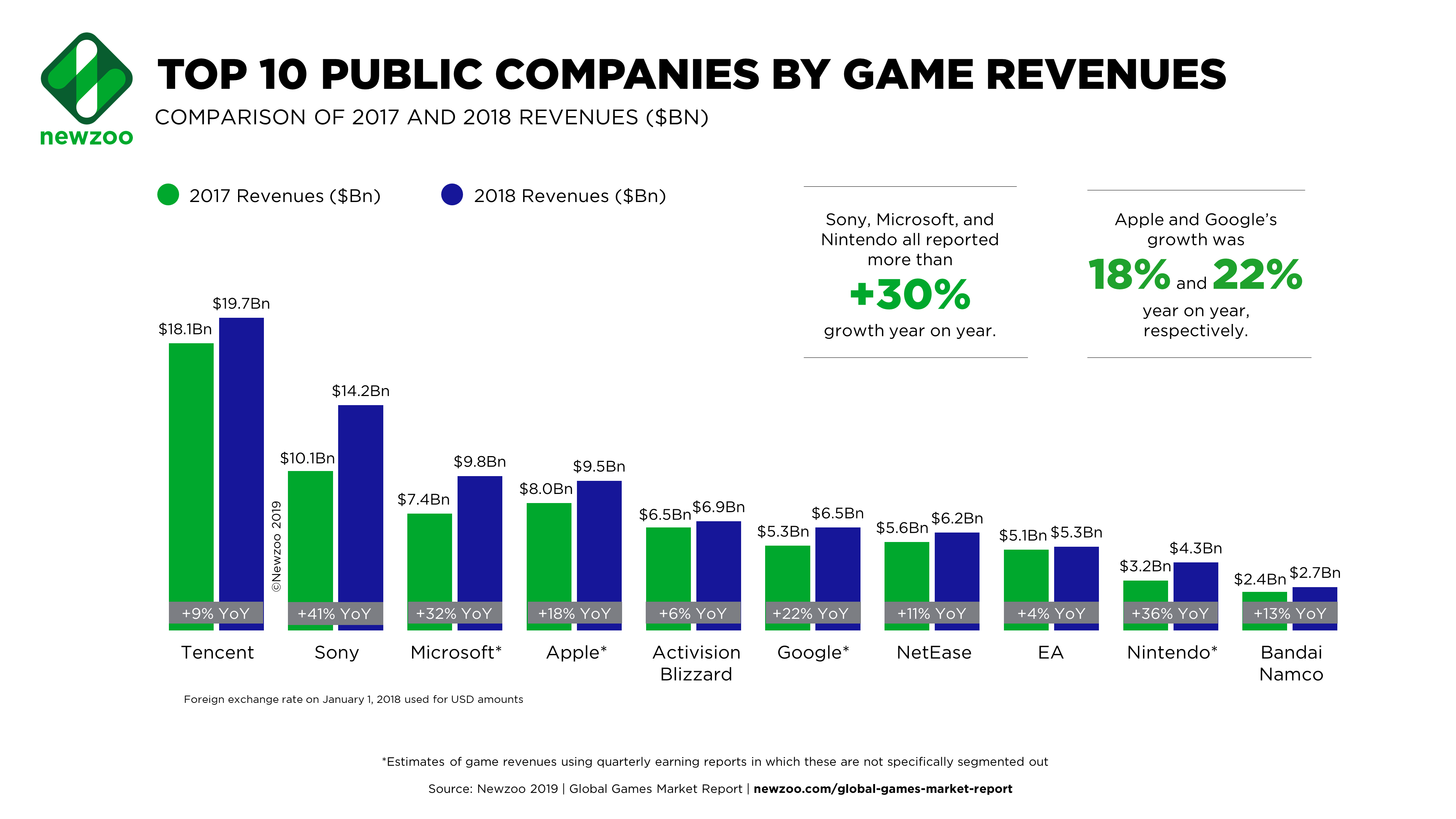 Credit: Newzoo
Sony generated the second highest revenue of $ 14.2 billion, an increase of 41% on an annual basis. Newzoo attributes growth to a series of commercially successful PlayStation 4 exclusives such as God of War.
Microsoft climbed to number three in 2018, overtaking Apple. The technology giant has generated gaming revenues of $ 9.8 billion, an increase of 32% compared to 2017.
"The company has made great strides with its Xbox, Xbox Game Pass and Xbox Live subscription services," Newzoo said in the report. "Thanks to this success, it is not surprising that the company is starting to position Xbox as a service rather than a hardware platform."
Thanks in part to the popularity of Nintendo Switch, Nintendo reported revenues of $ 4.3 billion, a jump of 36% compared to 2017, and defended its place at number nine.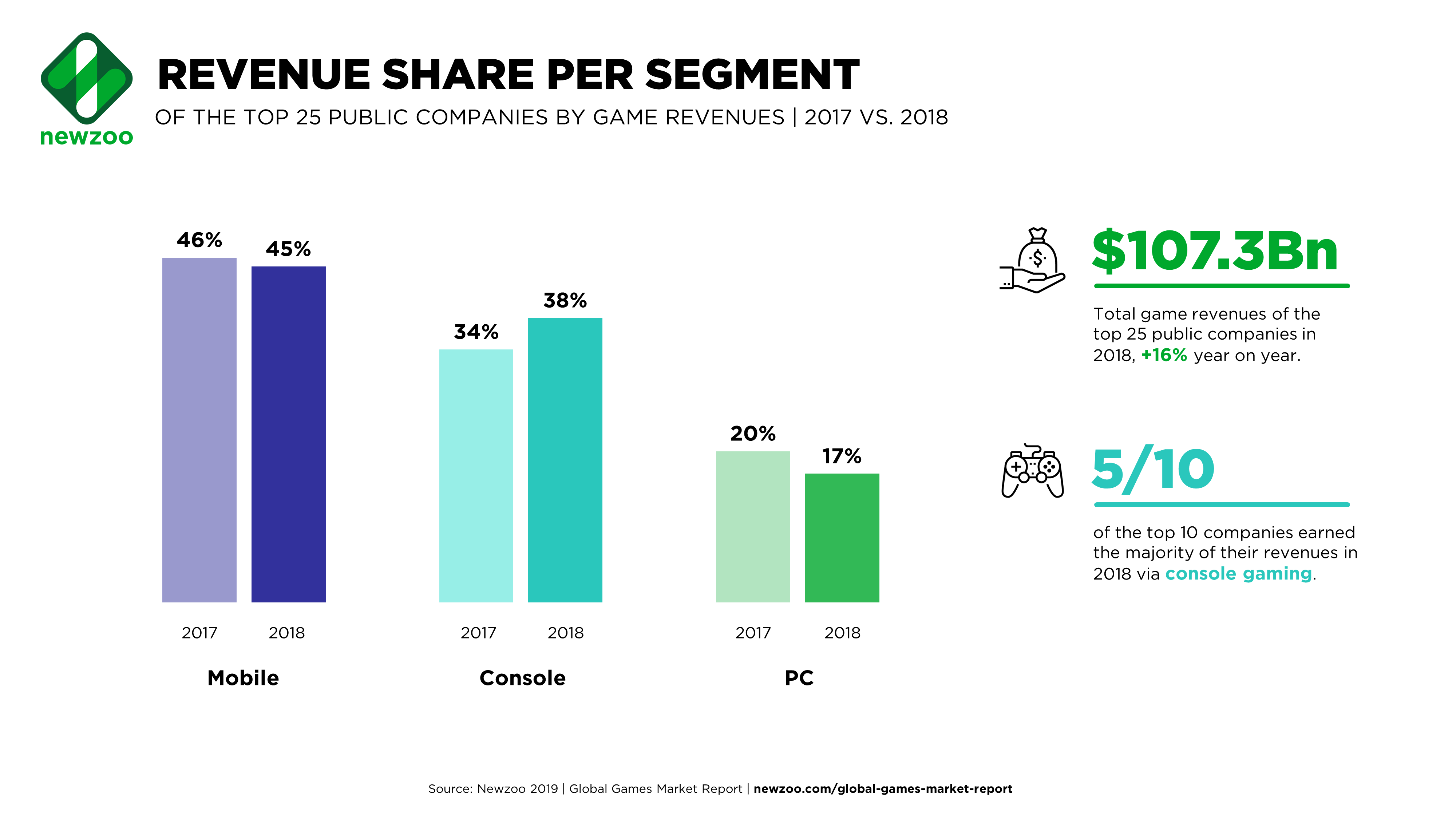 Credit: Newzoo
Activision Blizzard is in fifth place with revenues of $ 6.9B, totaled thanks to the increase in console revenue but offset by the decline in mobile devices. Despite its difficulties, Activision Blizzard has earned two points on Newzoo's list compared to 2017.
EA maintained its position at number eight with a modest 4% growth.
Ubisoft has risen two places to 13 with $ 2.2 billion in revenue.
The noteworthy changes that will affect future game revenues include Apple Arcade and Google's Stadia platform, both coming out this year.
Apple's subscription service gives users access to a library of 100 new monthly pay games, but does not include ads or microtransactions.
Details are scarce for Google Stadia, but the idea is that Chrome browser users will have immediate access to a variety of first and third party titles. More information on Stadia will be revealed this summer.
Capcom is at number 25, growing 45% with receipts of $ 809M. Newzoo attributes these advantages to the success of Monster Hunter: World. The company is expected to enjoy even greater success in terms of revenue this year, following the Q1 versions of Resident Evil 2 Remake and Devil May Cry 5.