Bets and eSports, are growing! But why did these two markets come together and offer solutions to their users?
With the sport stopped due to Covid 19, betting companies face many difficulties in proposing appropriate gaming solutions for all their users. A negative condition that risks generating a sensational system collapse.
With the aim of slowing down this regressive process, most igaming companies have started structuring interesting alternative ideas .
In the past few weeks capable of generating new life and market prospects.
To their rescue, a phenomenon has come that has long been the target of numerous game providers. A movement that has exploded in recent years and considered secondary to the sports betting proposal before the pandemic.
Let's talk about eSport with its huge number of users and business capable of quickly reaching unimaginable and shocking numbers.
We would like to remind you that there have already been a large number of betting companies around the world that have been created and developed solely to offer videogames betting solutions
Or equipped to offer these alternatives to their players alongside sport.
The video games
come from an exponential evolutionary process that transformed them from an exclusively stationary submerged niche online to a trendy media phenomenon, touted by famous gamers, sponsors and tournaments broadcast on TV and fought live in immense crowded arenas of supporters.
An unprecedented success
that led to evaluating the recognition of eSports as a sporting discipline in all respects with relative probable and future inclusion in the categories of the Olympics.
In light of the current crisis condition linked to the Coronavirus pandemic, the ease of adaptation that eSport is capable of fielding with continuous and sudden evolutions continues to amaze.
In fact, unlike almost all sectors of the world business that have fallen into a deep crisis, this phenomenon has not suffered significant repercussions.
Yes, it's true …
as a result of the anti-contagion preventive measures, all the live events have been canceled but the passion is the fun for these games has grown dramatically on all online platforms.
The trend of the #Stayathome
has meant that even niches of users more unrelated to the phenomenon could approach or try to consider this new form of entertainment among the various solutions available, even approaching sections of the population that are less young than the standard average.
The constant supply and demand in a difficult period for the world population has not gone unnoticed in the eyes of the great betting providers;
who immediately intensified their efforts to adapt and address this evolution more openly.
Today you can bet on many online eSport events enjoying a good offer of odds and really interesting markets on which to place your bets.
For the occasion, we analyzed Rabona, a betting brand recently presented on the market by Soft2bet and among the sites that currently accept bets on eSports.
A wide range of games and competitions are the basis of its videogames offer, click here for all the details…
Throughout the platform, there are interesting bonuses, also valid for the eSport variant as well as for the sports and casino aspect.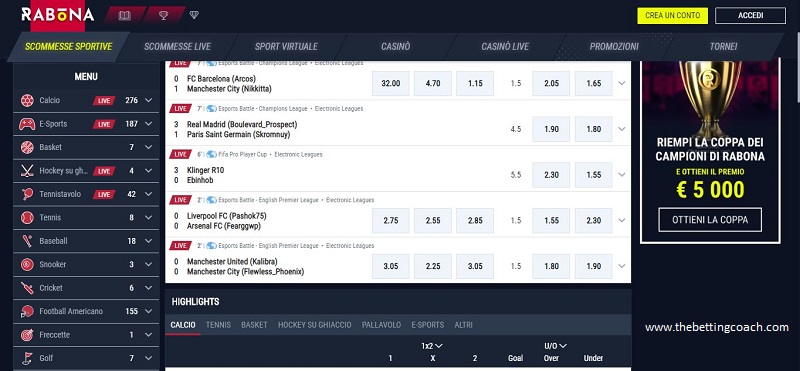 What are you waiting for? Find out more! CLICK HERE
ATTENTION: We remind you that the game is forbidden to minors and must be managed as fun avoiding to think of it as a solution to obtain easy earnings!
Play responsibly …