Due to the difficulties that occurred thanks to the Covid-19 pandemic, the world of eSports, which has been growing rapidly for the last decade, saw a variety of changes come into place to try and maintain this growth.
Ranging from redesigning circuit systems to switching competition formats, many of the changes are still in effect.
To get a better look at how such changes have affected the eSports industry, we are now going to have a closer look at the main trends that have developed in the eSports industry thanks to the pandemic.
Online Tournaments and Its Effects
In-person competition and live events are a major part of any sport, and eSports are no exception to the rule. Some of the largest eSports tournaments such as Intel Extreme Masters or the League of Legends World Championship exceed a variety of major sports events in their production value and grandiosity.
However, for safety reasons and to try and prevent the spread of Covid-19, most eSport event organizers had to transfer their events online. Some, such as ESL, even went as far as to completely rework their circuit formats. Furthermore, a number of global eSports events had to be divided into regional divisions.
When compared to traditional sports, which were stopped completely for a while, the eSports sector does not appear to have been impacted as much. Competition organizers have found innovative ways to ensure that eSports tournaments can carry on, while viewership figures on platforms such as Twitch are increasing faster than ever.
Data given by Statista reveals that during the first wave of lockdowns in March 2020, Twitch gained 10% in viewership on various eSports channels when compared to the months before the first lockdown. This was a trend that continued for the rest of the year.
This increase in popularity of eSports has seen a number of new brands trying to a get a little slice of the pie.
A number of giant companies such as IBM, Gucci, and Chupa Chups decided to enter the world of eSports last year, which is something else that would definitely have contributed to the growth of eSports.
Decreased Revenue
Given what we have just said above, it would seem that the Covid-19 pandemic has helped the eSports sector to thrive. In a way it has – the increased number in viewership is a direct result of people around the world having to spend a lot of their time sitting at home.
Online casinos have also seen an increase in figures for the exact same reason. People were really bored at home and wanted a means to keep themselves thoroughly entertained, and playing casino games online such as blackjack, poker, baccarat, roulette, and slot games was a great way to do this.
If you want to start your own online casino journey, then you would do well to carry out some research, and in fact you can find the best tips to bet online here. This site has their own team of experts whose main job it is to make sure that all their readers have the best gaming experience possible.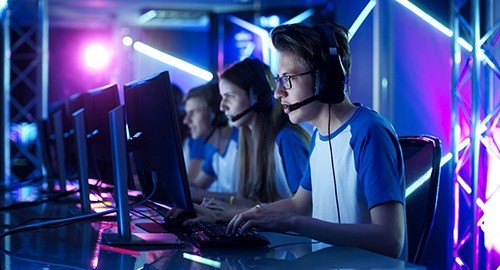 However, despite the rise in figures, nobody comes out this pandemic as a winner. Live eSports for a huge part of the sector's revenue and gives sponsors the chance to get more exposure. Companies are less willing to sponsor if they know that their exposure will not be as high as usual, and this will lead to a lot of lost money. Think about it, would you spend money to sponsor a competition when you know that your adverts are not going to be seen by as many people? Yeah, we thought so.
According to a report from Newzoo, eSports revenue in 2020 was $950 million, which is nearly 1% less than what it was in 2019. At the start of 2020, it was estimated that the eSports revenue would be $1.1 billion, so you can see just how much was lost. Newzoo states that this loss has nothing to do with a decrease in supply or demand, but due to the fact that many events were cancelled, postponed, or moved online.
Additionally, the inability of being able to host large eSports events has led to many other issues. For example, like we mentioned briefly above, major eSports tournaments had to be split according to regions, and this can have a severe impact on eSports dynamics.
CS:GO is a great example of this – most of the best teams reside in Europe, meaning that North America has been left behind.
This lack of competition in North American saw a number of eSport organizations move away from CS:GO, while others had to pick up European rosters or move to Europe. Fewer great teams being involved in a tournament could lead to a decrease in viewership figures for a particular eSport in a certain region, such as CS:GO in North America. It is definitely true that the eSports sector has not been affected by the Covid-19 pandemic as much as other industries, but it definitely did not avoid damage all together.
It might not be that visible now, but the longer the pandemic rages on for, the more of an impact it will have on eSports.  What will be the final damage? Well, we guess we will just have to wait and s