X-Bet.co Rampage Series #6 was held for South America region from 9th to 16th of December.
The Dota 2 tournament featured 8 teams, 6 direct invites and 2 qualifiers from Brazil and Peru.
Matches result
At the group stage, the tournament participants were divided into 2 groups.
Group A: paiN Gaming, Thunder Predator, Vira-Lata Caramelo, Omega Gaming.
Group B: Team Unknown, FURIA Esports, Infamous, NewLevel.
As expected, the Group A favorites, paiN Gaming and Thunder Predator, had defeated the underdogs and went through to the playoffs where they clashed with Infamous and Team Unknown respectively.
Thunder Predator emerged victorious in the intriguing clash with paiN Gaming twice. Firstly, they won 2-1 in a bo3 upper bracket final, then secured a 3-2 victory in the exciting Grand Final.
Tournament Statistics
According to esports charts X-Bet.co Rampage Series #6 reached 19 552 viewers at its peak. The Dota 2 tournament had 50 hours air time with 188 207 hours watched and 3752 average viewers.
Top 5 popular matches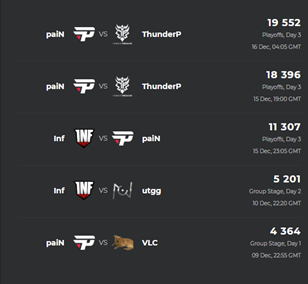 The tournament statistics come as no surprise with decision map of the Grand Final demonstrating the best viewership numbers. The 2nd place is taken by the upper bracket finals between paiN Gaming and Thunder Predator. Then goes the lower bracket final, featuring Infamous vs paiN Gaming with 11 307 viewers at its peak. Worth mentioning that the new hyped Brazilian team Vira-Lata Caramelo, or in other words "the dog logo team", match gathered 4364 viewers.
The live broadcast of X-Bet.co Rampage Series #6 was organized by MissClick_TV in Portuguese language and EpulzeGaming in English.
Everyone could bet on Dota 2 with best esport odds on X-Bet.co Rampage Series #6 both pre-match and live. Rampage Series #7 will take place in Europe, in the first quarter of the upcoming 2020 year.FacebookTwitterLinkedInWhatsAppTelegramEmailCondividi